Histoires Décalées offers a different way to see Lyon. Follow the guide to explore esoteric history, famous criminal cases and the secrets of a city that is like no other!
Last updated date : 01/10/2022
All year round daily. By appointment.
Histoires Décalées Bâtiment 9 36, rue Emile Decorps - 69100 Villeurbanne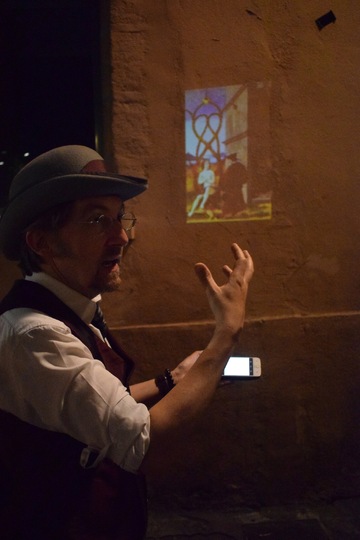 Nicolas Le Breton is an author and guide.
He has worked as a professional tourist guide in Lyon for two decades, covering the equivalent of the Earth's circumference, some 40,000 km, over the course of his career! Suffice to say that he is familiar with the city's streets… He likes to explore history, revealing unexpected facets, and telling anecdotes that throw light on historical trends.
Specialised in the darker side of Lyon's history, he has been fascinated by criminal cases for years, but above all the secrets of a city that represents one of the three points of Europe's ""esoteric triangle"", along with Prague and Milan. He collects old books and documents, and searches through archives, delighting in sharing rare and even unique finds with his guests. Follow his news, and discover Lyon as you have never seen it before over the coming months.
Nicolas Le Breton is also the author of six works: four novels, a collection of crime stories, and an illustrated work.
Useful tips
Openings

---
All year round, daily.
By appointment.
Prices

---
Adult: 16 €
Teenager: 11 €
One price: 17 €
Group adults: from 180 €
Group children: from 165 €
Concession: 11 €.

Group rate available for > 5 people.

See on the website. https://histoiresdecalees.com/tarifs.
Accessibility

---
Accessible for self-propelled wheelchairs
Histoires Décalées
Bâtiment 9 36, rue Emile Decorps - 69100 Villeurbanne