Explore Lyon with Hally Event's trail games! Use your observation and reasoning skills to solve puzzles and make your way through the city.
Last updated date : 12/09/2023
All year round daily.
Hally Event Place Bellecour - 69002 Lyon 2ème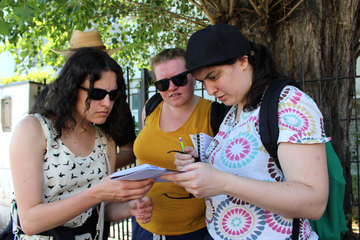 Explore Lyon's neighbourhoods during a fun walk. Follow the instructions on the road map and solve the puzzles and games using your observation and reasoning skills!

Along the roughly two-hour route, games and puzzles reveal places and details that you probably wouldn't have noticed as you passed by. Take your time to discover places, with a competition-free trail game.
An ideal way to see Lyon in a different light and have fun with friends and family.
Ready to explore Lyon?

Select one of our walks and make a booking on our website:
- Saint-Georges, a neighbourhood in Vieux-Lyon: the historical heart of Lyon;
- The slopes of Croix-Rousse hill and its famous 'traboules' (hidden passageways);
- Tête d'Or Park: a slice of nature in the city.
Hally Event
Place Bellecour - 69002 Lyon 2ème